On until 26th October 2014
Kazimir Malevich
Born: 1879 Kiev, Ukraine
Died: 1935 St Petersburg, Russia
I read somewhere that Kazimir Malevich wasn't a particularly good painter. I've been looking for this piece of wisdom today and typically I can't find it. I wanted to see what was meant by it because after going to the first ever retrospective of his work in the UK,
at the Tate
, I disagree with this statement. Strangely though I think my low expectation was partly why I was so impressed and moved by this show.
I think Malevich is a shining example of what a painter should be. He was constantly experimenting in his early career with various forms of abstraction. His exploration through the European movements in the early stages of his painting career show him trying out Impressionism, Fauvism, Cubism etc whilst at the same time using the native Russian people and workers as subjects. This early work is interesting but as I moved through the next few rooms I felt that he was really starting to find his own unique vision and working increasingly at the cutting-edge.
The big change happens when he becomes involved with theatre and collaborates with avant-garde poets and musicians to produce the futurist opera called
Victory over the Sun
in 1913. My friends and I were quite amazed by how modern this piece was for the time. He starts producing work for the stage, and it is this that leads him to the level of abstraction of which the pinnacle becomes the renowned
Black Square
. This is also the starting point for his new approach to art which he called suprematism.
Around the middle of the exhibition there is a room that replicates an exhibition held in 1915 called
The Last Exhibition of Futurist Painting 0.10.
There is one surviving photograph of this (see below) which the curators have used to evoke the original room with nine of the twelve original paintings.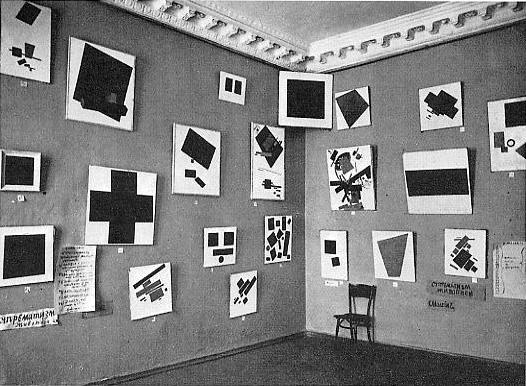 The original exhibition
This is the point where the exhibition gets really interesting. Even though there are many works with simple forms I really felt drawn in by so many of them and kept on noticing things such as a red square on a whitish background (see below) but with one edge going off at an angle, raising the question as to why? Also, on close inspection odd textural finishing when filling in forms which take on the appearance of something soft like fur or suede but definitely not trying to represent these things, all very odd but compelling. I feel that some of these works have a strange hypnotic or contemplative effect that definitely cannot be experienced without seeing them up close and in the flesh.
Red Square(Painterly Realism of a Peasant Woman in Two Dimensions) 1915
The most elemental geometric forms are the most contemplative and have a stillness but some of the works become more dynamic with coloured geometric shapes interacting with each other and often floating as if in space.
Supremus No.55 1916
It's hard to imagine but well worth baring in mind that this work was done during the height of the war and that Malevich was a reservist who spent time with his unit during 1916. By 1917 the old regime collapsed and the Revolution was transforming the political climate which sought to change art to fit the new and equal society. Malevich seems to reveal this change, visually dissolving and fading forms by placing white on white or fading edges.
Yellow Quadrilateral on White (Dissolution of Sensation) 1917-18
I found this fading quality quite emotive and was surprised at myself for feeling this but this is precisely why I think Malevich is such a great artist. He can move you when you're not expecting to be moved and with something as pure and simple as the piece above.
From 1919 Malevich became a teacher, eager to promote the principals of suprematism for the home and the workplace. During the 1920s, he took suprematism into three dimensions with his architectons. These are like a cross between sculpture and architectural maquettes.
However, by 1924 Lenin had died and gradually Stalin succeeded him and this brought about another change where avant-garde art was seen as elitist. Socialist realism became the authorised style of the Soviet Union. This didn't prevent him from painting though as by 1929 he's producing new works blending abstraction with figuration.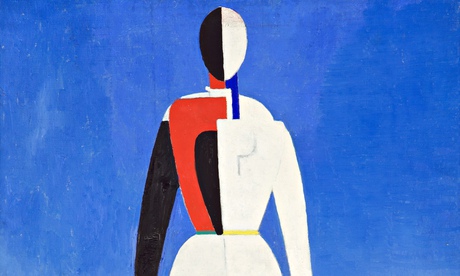 Woman with Rake
This exhibition is large and covers twelve rooms in all but with this you really get to see how prolific he was and you also get a real sense of a whole life shown in art. It feels personal and strangely as if I had known him. I would like to thank my friend Myka for treating us to this one.