William S. Burroughs (Can you all hear me?)
October Gallery
London WC1... until 7 February 2015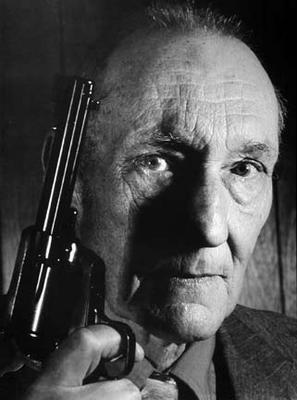 I don't think I've ever read any Burroughs. I may have read
The Ticket That Exploded
, as that one popped into my mind. I'll have to check Robin's copy and he will have a copy, that's for sure. My other half has been into Burroughs in a very big way for many years and that may explain why I've neglected him; Robin's kinda read him for me.
So, anyway, it was Robin's birthday and what better way to celebrate than to take ourselves to an exhibition of some of his artwork at the
October Gallery
. This was the first gallery to show Burroughs' work in Britain in 1988 (which Robin went to). We had already been seeing each other since '87 so I don't know why I didn't go at the time.
We cycled into town to mooch around the gallery and then go for a bite to eat but on arrival we found ourselves outside a rather closed looking gallery. We looked at the opening times, 'Closed', they said, so we walked away disappointed, saying "why didn't we call to check?" etc. But I decided to go back, unable to accept this change in our plans. I rang the buzzer and a woman answered telling me that the gallery was closed, I cheekily replied "But it says you're open on your website". She replied "Stay there I'm coming down" and low and behold she opens up, lets us in and turns on the lights for us. This is a most unexpected and delightful change of events.
Detail from Space Door 1987
Two fair sized rooms contain the work which consists mainly of pieces using spray paint, some in rather garish colours. There are also works made of wood with shotgun holes and a sculpture made out of a door that has been collaged.
Untitled Triptych 1993
Of course we know that Burroughs was fond of the gun so the shotgun pieces are no surprise really. I think they're good and reminded me of Nikki de Saint Phalle's "shooting paintings" of the early 1960s. Other artists also came to mind such as Johns, Rauchenberg, Polke and Warhol, who Burroughs does a great portrait of. It's this piece that is probably the most memorable for me. It is ghost-like and at the same time suggests a sci-fi vision sent through space TV, if you know what I mean.
Warhol, A Portrait in TV Dots..., 1992
Burroughs, primarily a writer, made a pretty good stab at art, but you can see that he's been looking at other artists' work to find ways of creating certain effects.
Included in this centenary homage are works by Genesis Breyer P-Orridge, Shezad Dawood and Liliane Lijn, all UK Artists whose work relates in some way to Burroughs' literature and his use of the use of cut-up technique invented by his friend Brion Gysin.
We spent a really nice hour or so in this gallery followed by coffee and cakes and a visit to an old buddy that still lives in the centre of town (very rare these days).
If you fancy seeing this exhibition it's free to get in but do check the opening times, unlike us.