Why is it that art galleries make my feet ache so much? Is it because I'm not content to go around once? Probably. I usually go 'round for seconds and choose some pieces that stand out for me so I can put them on here. I'm sure this doesn't help my poor feet though.
Throbbing Plates Of Meat
So now that I and they have recovered, here's a bit of blurb about the exhibition that's currently on at the
Whitechapel Gallery
in London.
This exhibition aims to show how geometric abstraction has blossomed around the world and not just out of the hubs of Russia, Europe and North America.
It starts with Kazimir Malevich's Black Quadrilateral, a very small piece of work considering how large an impact it continues to have; something to ponder considering how ridiculously large some works of art have become.
Black Quadrilateral 1915
This is a work that really must be viewed directly as it looses all it's power when seen like this. When standing in front of this piece it draws you into its soft blackness, a bit like when you close your eyes. It could be interpreted as a negative void but I would consider it a contemplative space, devoid of all artistic clutter. It doesn't seem challenging in any way, reflective maybe. As you look you may learn something about yourself, or maybe you will learn something about what art doesn't have to be? This is a painting that can mean many things or nothing.
So that's a good start, now what? A piece by Sophie Taeuber-Arp, that's what!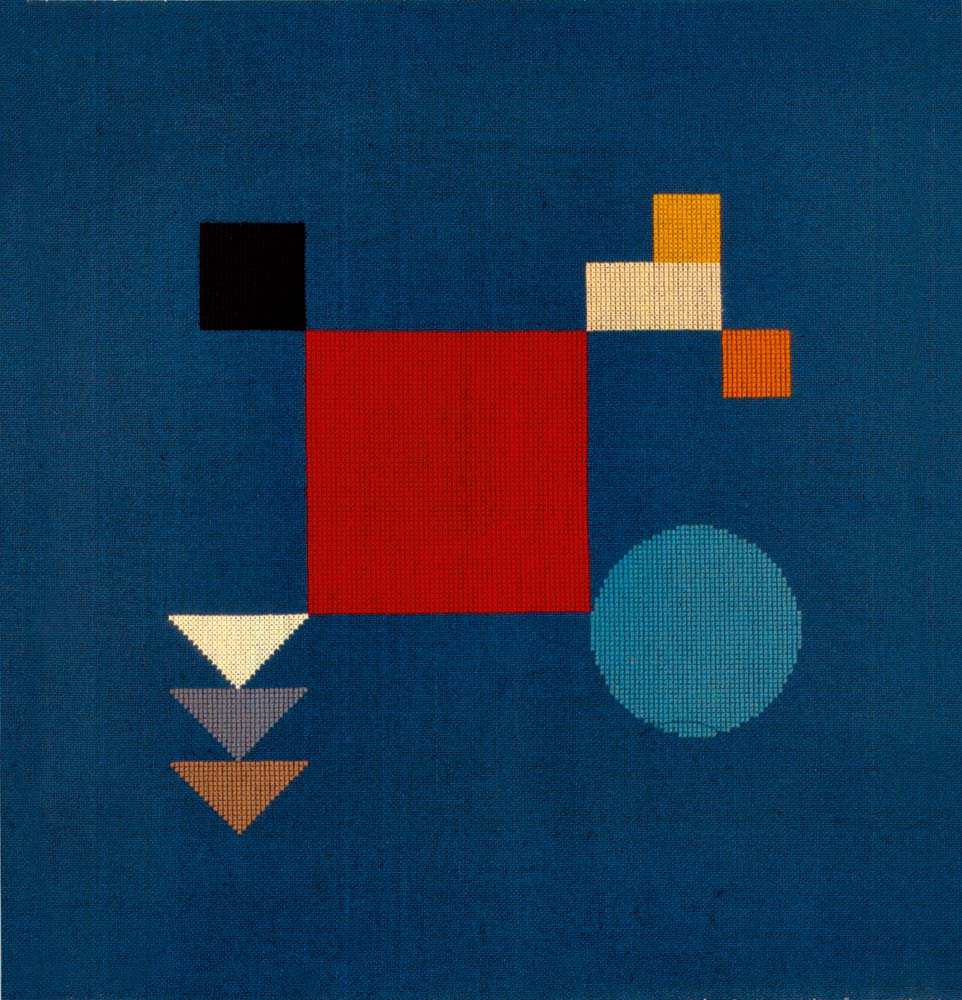 Untitled (Composition with Squares, Circle, Rectangles, Triangles) 1918
I was immediately drawn to this wool needlepoint piece because of the depth of colour and texture, like a bee is drawn to a flower. Again, this piece benefits by seeing it direct as all the beautiful texture is lost here and to a degree the colour, which is incredibly rich and intense when seen 'in the flesh'. Sophie's choice of needlepoint shows how abstraction could be incorporated into everyday design items, domestic interiors or civic spaces. This design could make a beautiful rug, cushion or wall hanging and as such is very versatile.
Aside from the painting, sculpture and installation pieces there's quite a lot to see in the form of periodicals and magazine covers, some of which we found most desirable. Magazines became a powerful communication vehicle for artists, a vehicle for conversing in the exciting language of abstraction.
In the room upstairs we were taken with a particular piece by
Clay Ketter

,
a contemporary Swedish-based American artist who spent time on building projects where he developed an eye for this kind of thing...

Clay Ketter (Building on Other Planets 2009)


This is not the piece that's in the show, that piece I think is a better work of art but the above demonstrates the patterns and textures that could be revealed when one rips down a wall. When first discovering these patterns, he was obviously taken with the accidental symmetry, texture and colour. In his work he uses tiles, house paint, concrete and drywall to make assemblages that mimic surfaces we may occasionally see in daily life. Often fissured and crumbling, his work is very textural, which is one of the things that links these three pieces for me. I hope it demonstrates that abstract work that is geometric does not have to be interpreted as cold and distant. All these pieces have a kind of textural warmth to me and are either contemplative, inclusive and basically quite rustic.
This exhibition is on until the 6th April if you wish to go and give your feet a bit of a pounding.