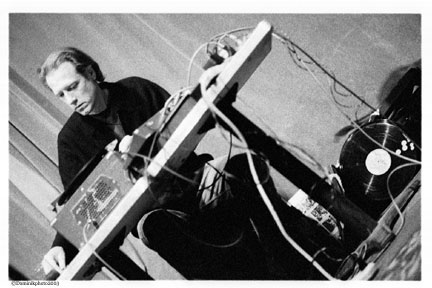 Christian Marclay
I found myself at the White Cube gallery a few weekends ago. I'm guilty of not seeing enough contemporary art as it's not my favourite kind of art even though I make art myself. Why? Maybe because I imagine I'll have to trawl through a lot of pretty bad stuff before getting to the good stuff. I have a notion that there's probably much contemporary art in circulation that will not stand the test of time. For me, historical pieces are a better bet if you want quality. I tend to have similar attitudes to reading.

We went primarily to see a performance by Mica Levi, who wrote the soundtrack for Jonathan Glazer's film 'Under the Skin' and has won awards for her music. It's a quirky film we watched at the end of last year and now I'm reading the book too, not my sort of thing normally, as I've already said, but it is strangely compelling.
We arrived at the gallery in full knowledge it would be busy but sadly for me it was far too crowded. I never expect to see much at standing musical events, as I'm quite petite (sounds good). Usually though, I can get a peep through the crowd, but in this instance nothing whatsoever was to be seen. Yes, I know it's all about the sound but it would have been good to see the instruments if nothing else. Maybe I'm just not getting it but I think the performers could easily have been raised above ground level on a really quite basic stage. Or am I being just too sensible?
Luckily the music was very good though and didn't go on too long, which can be a problem when you're not comfortable. We've been at seated events before where the chairs were so punishing that we've left in the half time break; ridiculous I know but true. Here's an example of her work...
There are weekend performances taking place which are new pieces and will be recorded and pressed on to vinyl by a huge manufacturing press machine in situ, which is part of the exhibition.
My partner really likes Marclay's work and saw his acclaimed show, Crossfire, at the old White Cube in 2007.
After the music we looked at a selection of Marclay's canvases. Connected by their general theme of sound, different colour themed canvases reveal gestural and expressionistic backgrounds, overlaid with onomatopoeic words which you may associate with comic books but in this case describing what's happening with the paint, words like splat, blob or whoomph...
These are big, fun and a little irreverent but quite refreshing. I got the feeling that these weren't really his forte and I think I was proved right when we went into the next room. Getting there via a walkway of video projections describing the detritus left behind in the streets after a good night out. The sound and sight of empty bottles rolling along the ground is how I remember it. As you walk through you're treated to your own shadow too.
To finish we found ourselves in a large dark space in a room called Surround Sounds. Now this is a bit of a trip and probably not a good idea for people suffering from epilepsy. It's very noisy and completely silent in there at the same time. What do I mean? Well, it's a four wall video installation of dancing onomatopoeic, animated words and descriptive sound effects taken from characters in Superhero stories. However, the room is completely silent. Words are choreographed to seemingly dance to their own description. It's a very colourful and rhythmic experience too and once you settle in it is very hard to get up and go out because it is, surprisingly, very pleasant in there, once you give yourself over to it.
This exhibition is free and on until April 12th with different musical performances each weekend...Enjoy!