I received this book as a gift from Robin on Valentines Day. I don't know if it was supposed to be a Valentine gift, if so it's not a very romantic one, but hey, I don't care because I'm really enjoying reading it.
I posted about Grayson some time ago in relation to the Radio 4 Reith Lectures he gave in 2013 and you can watch the first one on here if you wish under my lectures tab. Grayson is a very good communicator, which comes across with the lectures and also with this book. He manages to convey complex ideas and observations about the state of contemporary art but in chatty and easy to comprehend style and that's not an easy task. Lots of great illustrations add humour but also help to drive home his points, such as this one below...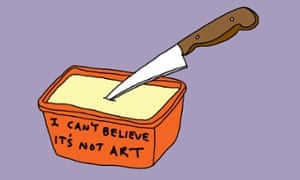 Dealing with similar topics that were raised in the lecture, this book raises questions about what constitutes 'art' in our day and age. I'll miss it when I finish it, which will be very soon.