Well, I've been away on my hols, that's why I've been a bit on the quiet side. It wasn't a quiet holiday though, in fact it was very busy and I'm quite glad to be back so that I can have a rest.
What a great city Nice is, it's big, challenging, totally beautiful and it's by the sea! I wouldn't mind living there in another life but it's très chaud, that's the only trouble. I think I would have to live in Northern France, let's say Dinard (which is also gorgeous) and have a place in Nice too that I could enjoy from September onwards...yes that would be very NICE...geddit!
Who was it that said "Nice is not nice"? I've looked this up and cannot find the answer but anyway I disagree; it's got so much going for it. A city right on the Côte d'Azur is pretty impressive but it has many other plus points. Forgive me if you're already a fan but I shall list just a few here: elegant architecture, top shopping, very modern tramway, cheap as chips to get around, lovely food, attractive people who are very fond of dogs (especially tiny ones) and access to virtually the whole of the South of France by the train which runs along the coast and of course the
ART,
of which there is a lot, both in and near to Nice. There's so much to see and do we should of had two weeks instead of one but now I've got an excuse to visit again.
The last time we were in France we stayed in Antibes and went to Nice for the day where we visited
The Museum of Modern and Contemporary Art

.
This time we stayed right in the city and decided to visit once more but unfortunately it wasn't free to get in as they now charge...boo! It was still good to see the permanent works such as the Pop Art section, the Yves Klein, Niki de Saint Phalle and Tinguely. We also enjoyed a substantial temporary exhibition by Keith Sonnier, who makes sculpture with neon light. He's known as a Postminimalist who also works in performance and video art. Thankfully we were able to take photographs (that's forbidden at the Matisse and Naive Art Museums). Here's a record of our visits, which were often rather rushed due to our busy itinerary.
Keith Sonnier
Along the coast near the border of Italy is Menton, a lovely town with a hilltop village that's very pretty and popular but we didn't go for the village, we were there to swim and visit both
Jean Cocteau Museums
, a little old one and a gigantic and architecturally impressive new one. Jean Cocteau was an artist, poet, film maker, playwright, designer and writer. He could turn his hand to anything but seemed to infuse poetry into all the disciplines he worked in. I particularly enjoyed his free and easy drawings which are totally uninhibited. The sectioned-off area was amusing, being dedicated to some of his rather graphic drawings of the sexual act, mostly depicting men with totally exaggerated genitals. If you haven't seen these you will get an idea if you look on Google images but be careful if you do it at work! There was an age restriction on the entrance to this section which seemed all the more funny written in French...I can't really explain why. We could take photos in this museum - hurrah!
This exhibition inspired us to watch Cocteau's film Beauty and the Beast, which was really lovely. I felt very sad for the poor beast...
...but I think the beast is gorgeous even with a furry face and fangs.
At the Jean Cocteau Museum
We also visited the
Museum of Naive Art
which was a bit out of the way for us but worth the effort. I preferred the older pieces much more than the recent work on display. I must say I felt that the presence of the guards a little annoying. They don't let you take photographs and were a bit too conspicuous for my liking. We managed one though (see below)...take that fascists!
Also there was the
Matisse Museum

.
I felt I should have enjoyed this more but big queues to get in followed by strictness regarding not taking photographs and noticing guards following people around was distracting. We saw one guard make a woman wipe all her photos. C'est ridicule et stupide! I mean, what do they think people are doing with them? Personally, I would just be writing about and inadvertently promoting them if it was me. Why do they do this? A friend recently said that it was so that they could make more money in their shops selling posters and the like, which could be true. Still, I find this constant stalking a little annoying as it makes the experience feel restrictive...shame! I can't say that there was much there that really made an impact on me anyway. It seemed a bit dull and missing some of the vibrancy I was expecting. It was a lovely day out though so I'm not really complaining.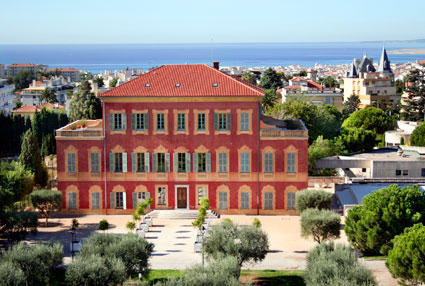 Matisse Museum
We had some lunch in the garden grounds where they have routes dedicated to Jazz musicians.
Here's a sneaky photo of a little Matisse torso which we liked...
...and here's Henri's paint box, I wonder if the paints would still work?